Sveiki!
Tātad vasara jau sen klāt un karsē mūs pamatīgi.
Bet kā tad būs ar jauno Vasaras sezonu anime pasaulē!? (Kura jau ir sākusies ;d)
Vai šajā sezonā būs jauni un turpinoši karsti darbi?
… ammm … man izskatās ka diži nē.
Vienīgi kas iekrīt acīs tad:
Wonder Egg Priority Special - Kas reāli ir pēdējā sērija.
(Kura ir iznākusi jau vakar - 30.06. xd, un iekš MAL un citām vietām izskatās ka bijusi švaka :< Un tas ir švaki, jo cik dzirdēts, tad lielākai daļai nepatika pašu sēriju beigas un cerēja, ka šī sērija pieliks labāku tīkamāku punktu.)
Jahy-sama wa Kujikenai! - Manga fans rejoice. … Jāmin ka baigi sāk parādīties vairāk un vairāk animju adaptāciju mangām, kuras ir savā veidā populāras online mangu fanu aprindās.
Miss Kobayashi's Dragon Maid S (2nd season)
That Time I Got Reincarnated as a Slime Season 2
Boku no Hero Academia the Movie 3: World Heroes' Mission
The Ancient Magus' Bride OVA
Varbūt kādam vēl kāda cita anime liksies wooow, bet tā reāli izskatās tāda pasausa sezona, tādā ziņā ka ne īpaši populāru mangu un light noveļu adaptāciju vai baigi jau sen gaidītu animju.
Uzmetot aci gan sarakstiem vai dažiem youtube video, tad var manīt ka būs redzami vairāki isekai šovi, bet neizskatās ka to mangas vai light noveles būtu īpaši populāras vai dzirdētas.
---
Ko tad es gaidu?
Jahy-sama wa Kujikenai!
Pāris pēdējos gados var manīt ka vairā un vairāk dažbrīd tiek adaptātas tādas mangas kuras ir savā veidā populāras online mangu komūnā kā piemēram - Why the Hell are You Here, Teacher!?, The Way of the House Husband, Nagatoro, Uzaki-chan, Komi-san (kurai drīz vien būs anime), etc.
Laikam lielākoties komēdijas, bet ar savu piesitienu … un šī ir viena no tām.
Un arī tai pašā laikā arī tiek mīmotas ar screenshotiem no mangas. Kā piemeram:
The Way of the House Husband

Jahy-Sama
Bet nu jā, vienkārši tīkama komēdija ar supernatural stuff. (and reverse isekai if you want ;d)
---
Reāli Jahy-Sama ir vienīgais ko es gaidu no šīs sezonas.
Jo vēl aizvien neesmu turpinājis MHA un lai gan gribētu, tomēr neesmu noskatījies Miss Kobayashi's Dragon Maid S1, lai gaidītu turpinājumus.
Bet ja uzmet aci, tad it kā iekrīt kaut kas, kas varētu būt kaut cik interesants.
Maybe something interesting. At least premise is interesting.
Šai es biju manījis mangu un saglabāju, bet neesmu vēl lasījis. Bet nu izskatās ka kārtējais "girl teasing boy" stāsts ar sava veida pagriezienu.
Maybe it will be interesting with some action, maybe it won't, idk.
Maybe some fine slice of life stuff.
---
Pāris reižu pārcelšans dēļ šajā sezonā tiks izlaistas šīs 2 filmas, kuras biju jau minējis citos sarakstos, bet reāli nekādas intereses tajās nav vairs.
---
Daudziem youtube anime ļautiņiem ir video "Ko es skatīšos 2021 vasaras sezonā!", bet lielākā daļa ir vai nu gari un ne īpaši interansti vai pārāk eiditoti un apgraizīti, dodot tādu sajūtu, ka nemaz nelūkoja visu sarakstu.
Tos kurus es nolūkoju kā parasti bija no TheAnimeMan un Sloan the Otaku.
Bet arī no Glass Reflection. Bet šoreiz viņa video ir kaut kā savādāks. Bet tas laikam tāpēc, ka šīs sezona ir pasausa, tāpēc vieglāk ir pārie pāri vairākiem šoviem un dot savu domu par tiem.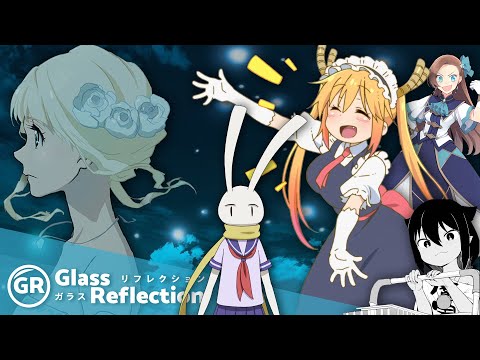 Tik ir jāsaka ka kārtējo reizi es esmu salty par to KA NEVIENS NO VIEŅIEM NELŪKO FILMU, OVA/ONA UTT SADAĻAS. :@ … Jo piemēram lielākā daļa Ķīniešu animes un Netflix animes ir iekš ONA sadaļas. Un tai pašā laikā dažreiz tur var atrast šo to jēdzīgu. … bet nu okey okey, šai sausajai anime sezonai tur nekā diži interesanta nebija.
---
Bet kā ir ar jums animeforumiešiem?
Ko jūs gaidāt no šīs sezonas?